You've made the first step to having fun, staying active, and meeting new people!
No team? No problem! Sign up for any sports individually, or with a few friends and be placed with others who sign up the same way.
Join over 40,000 Austinies who play with SSC annually, and enjoy drink specials at our featured happy hour destinations.
We can't wait to see you out on the field!
Choose a Sport
Click "View All Offerings", or narrow results by selecting what, when, or where on the homepage Fun Finder then clicking "View Results".
Who's a sport?

Just Me!
Register as an "Individual" and we'll match you with other individuals to form a full team of new friends!

A Few Friends
Register separately as individuals and specify a group contact person to be placed on same team.

A Full Team
Save by making a single payment and entering the emails each team members to allow them to join your roster.

Company Teams
Commit to fielding multiple teams in a given season or time period and enjoy a larger roster size.
Finish Strong!
Deadlines
If playing with friends
verify that they've
completed registration,
waiver and payment
before the deadline.
Emails
Watch for a series of emails with important instructions to save you time and inconvenience!
Schedules
Check for your accurate team schedule approximately 72 hours before game 1.
Team Uniform
Shirt handout happy hours will be scheduled prior to the first week for most sports.
Official
Business
Rosters will be checked, waivers verified, and
any questions answered prior to your game.
Happy Hours
Happy hours follow all games at a designated bar and restaurant with exclusive league
specials.
Finale Week
Seeded games for all teams.
Top finishers win prizes and bragging rights.
The SSC is a great way to meet new people, make new friends, stay active, and have fun in Austin! We offer sports leagues and tournaments year-round all over the greater Austin area, giving you the choice of what, when, and where to play. Our goal is to be the best part of your day by providing a safe, accepting, and fun environment for casual sports and socializing.
A league is a 6-7 week commitment to play a sport of your choice, always on the same day of the week and at the same location. The last week of the league is a championship game to crown the winners!
From the austinssc.com menu, go to a sports registration page and scroll down to the sport you would like to play. There is a registration link in each listed item that will take you to our partner site (League Lab) to start the registration and payment process.
Captains
Captains can choose to take care of the full team balance and manually collect money from their teammates, or only pay a deposit and have players pay their share of the team balance through TeamPayer.
NOTE: The card used for the deposit will NOT be charged again by LoneStar SSC unless there is a remaining balance after T-Shirt Pickup.
Individuals
A credit card is needed to complete your registration. All individuals are subject to a $1.95 conveneince fee. NO REFUNDS are offered for any reason other than if we are unable to place you on a team.
If I sign up as an individual, am I guaranteed placement?
Usually we have enough room for everyone if you sign up on time. Since we are unable to determine the number of males & females to sign up for a particular sport until after registration ends, we cannot predict if everyone will be placed. If you are not placed initially then you will be put on a wait list.
When do I find out what team I'm on?
You will receive an email 2-3 days before the posted happy hour date. You can also view your roster in League Lab.
What if I have one or more friends who want to play, but not a full team?
During the registration process, you'll be asked if you would like to play with friends. From there, you can enter their information so they'll receive a direct link to play with you and it will notify the SSC that you would like to play with your friends.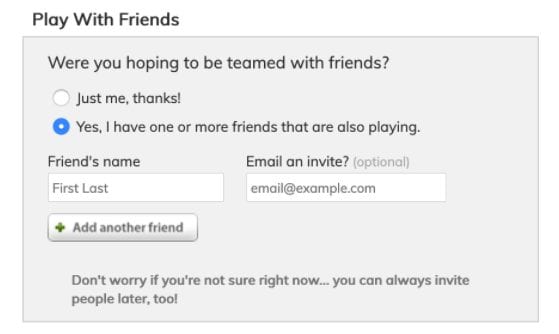 Did you forget to send the link during sign up? No Problem! You can send a link directly to them from your League Lab dashboard by clicking the button labeled "Invite Friends to Play" which will allow you to email your friends or a link via any messaging platform.
What type of equipment do I need?
There are only two sports that require you to have equipment. For Soccer, all players must have their own shin guards. For Softball, all players must have a glove (and a team bat). For other outdoor sports we recommend cleats, but they are not required.
Will our team have practice?
The SSC does not coordinate practices for teams; however, you are more than welcome to set up something for your team on your own. Our fields are for game use only.
How can I contact an SSC representitive?
Click here to send a message from our SSC Help page.